One of the first questions new Ecuadorian expats ask is 'how do I send money to Ecuador and is it expensive?'
The answer is, well, it depends. Like many Latin American countries, transferring money in and out of Ecuador has traditionally been problematic, expensive, and time-consuming.
These difficulties arise through the combination of weak governmental oversight, tough anti-money laundering measures and lack of innovation from the banking industry. This can result in a not so great experience for the end consumer.
Hopefully this guide will provide you with the best options on how to transfer money into Ecuador.
Money Transfer Options
$500 or less
You have several options for transferring amounts of $500 or less into Ecuador.
ATMs
If you're only here for a short period of time as a tourist, or don't have an Ecuadorian bank account, then ATMs are going to be your best bet.
Pros
Easy and accessible across the entire country (incl Galapagos).
Withdrawing small amounts is secure as you don't need to have large amounts of cash on you.
Cons
Fees can add up. You'll generally pay about $5-6 to the Ecuadorian bank on top of whatever your home bank charges.
ATM issues do happen in Ecuador and the banks don't have a great track record of helping customers regain their money. I personally had to wait 6 weeks when a Bank of Pichincha ATM failed to dispose of my $600, but still charged my account. However, my bank in the US (Bank of America) was great and immediately credited the account whilst they investigated.
Pro Tip: Sign up for a bank account in your home country that reimburses ATM fees such as Charles Schwab or Fidelity. But, be aware of any fair use policy and I would not suggest telling them you're just about to move overseas...
Online Money Transfer
There are several services you can use to transfer from your home bank direct to your Ecuadorian bank or for a cash pickup.
This is my preferred method for payments up to $3000. But, I've still used it for smaller amounts as it is quick (24 hours generally) and I can transfer straight into my Ecuadorian account, so I don't need to worry about walking around with a wad of cash after visiting an ATM.
My preferred method is WorldRemit because it offers the cheapest fees and I find it user friendly. Western Union is also quite popular, but is generally a bit more expensive.
Pros
Quick (one business day)
Transfer straight into account or cash pickup
Cons
Fees for smaller amounts (ie $500) are approx $10. More cost-effective for larger transfers (ie up to $3000).
Won't help you out if you need instant cash
Pro Tip: Use my WorldRemit refer-a-friend link and you'll get $20 credit to make your first transfers.
$500 to $3000
Online Money Transfer
This is where the online money transferring services shine. They are quick, safe and cost effective.
I was a long-time devotee to an online transfer service called Transferwise, but they do not operate in Ecuador. Whilst annoying, this did lead me to comparing all of the various online services that would allow me to easily send money into Ecuador.
My recommendation is WorldRemit because they are the cheapest and I've found their support to be helpful the one time I needed it.
I actually needed to contact them because I couldn't find JEP in their long list of Ecuadorian banks and cooperativas they transfer money into.
Hint - WorldRemit calls JEP "COOP. AHORRA Y CREDITO JUVENTUD" as shown below: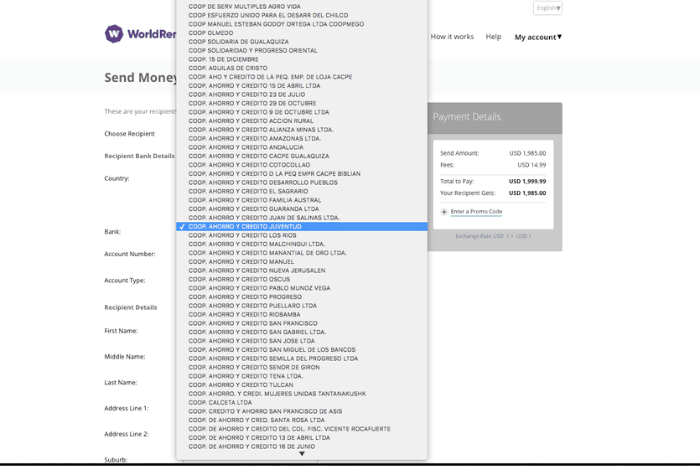 The fees will increase depending on how much you are sending. But, for reference, a $2000 transfer will cost $15 with WorldRemit. This compares well to other services such as Western Union where fees are $20+.
Pros
Transfer into most Ecuadorian banks
Setup bank details once and send follow up transfers within seconds
Cost effective
Cons
They have a limit of around $3K for bank transfers. So, not a great option for larger one off purchases such as property or cars.
$3000+
For larger transfers you'll be limited to bank transfers and checks.
Bank Transfers
Each Ecuadorian bank has a different policy and will charge different amounts for wire transfers. Your best bets are the larger banks such as:
Expect to pay at least $50 to your Ecuadorian bank for a wire transfer + the fee from your home bank. If you're transferring from the US, then you won't have to consider exchange rates, but if your home bank is an another country, then you will.
Note, transferring amounts $10K or greater will trigger the bank to ask you a bunch of questions around where you got the money from. They are required by law to ensure that the funds were legally obtained (ie not through drugs, money laundering or a scam). This is not normally a major burden, but just adds another step to the process.
Pros
May be your only option for amounts of $3,000+
Cons
Expensive
Need to open an account at the bank
Checks
Again, you definitely want to check with your Ecuadorian bank on their policy for accepting checks. Pay particular attention to the limits and expected processing time as it can take 3-4 weeks for checks to clear.
Pros
Straightforward process
Some banks do accept checks
Cons
Long processing time
International checks are not accepted at all banks
Sending Money to Ecuador FAQs
Can I use PayPal to withdraw money in Ecuador?
Not directly, no. Whilst it would be convenient to be able to withdraw cash straight from Paypal into a local account or ATM, that isn't possible.
You still have a few options to get your cash into Ecuador which are similar to the above, but with the added step of transferring from Paypal first:
1. ATM
Transfer from your Paypal account into your US (or other home country) account. Use your foreign debit card in Ecuador to withdraw from an ATM.

2. Online transfer or cash pickup in Ecuador
Send from Paypal to an online transfer service such as World Remit, Western Union, or Paypal's own service, Xoom. Then you can choose to transfer to an Ecuadorian bank account or arrange for a cash pickup at a bank in Ecuador.
Is there an 'import tax' on cash entering Ecuador?
No, there is not. Moving small amounts of money into the country is relatively easy.
What is Ecuador's cash exit tax?
Sending cash out of Ecuador triggers an exit tax of 5% if transferring over $1,200. The $1,200 threshold is calculated from 3x monthly minimum wage ($400 in 2020).
Have I covered your favorite method here? Feel free to let me know in the comments if I've left anything out so I can update to include.