Bolones de verde are one of the most common snacks you'll find throughout Ecuador.
You'll find them sold on the street, in markets, bus stations, cafes and restaurants. But, my favorite are the homemade bolones you'll find in grandma's kitchen.
The below recipe is adapted from a simple recipe used by Michelle's mom – an Ecuadorian native. Like many Ecuadorian dishes, it's simple but takes practice to get right (I'm by no means a master).
What I like most about the simplicity of this bolones de verde recipe is that it gives you room to experiment. I love spice. Not just adding it as a sauce (aji) at the end, but throwing some chili into the mix itself. You can do a lot with the recipe once you get the basics right.
My first bolon de verde

When I first arrived in Quito I was obsessed with humitas. Obsessed. I made it my mission to seek out the best humitas in cafes all over Quito. I still love them, but my tunnel vision meant I'd overlooked the bolon.
That was until I visited Manta and found myself wandering around in a local neighborhood that was not exactly tourist-friendly. There were a bunch of people lined up at a portable cafe eating something out of little plastic bags. Its popularity was promising so I asked what it was. After confirming (several times) that it didn't have any meat, I grabbed my own little bag of bolon.
It was tasty and filling. I've since had much better bolones, but that first introduction sticks with me because it exemplifies what bolones really are – a tasty, simple, budget-friendly snack that can be enjoyed by everybody.
Bolon de verde video recipe
I made this video whilst I was in quarantine in Australia. Yep, I was visiting family in Australia when COVID 19 struck and I had to isolate in Australia away from Michelle and the kids. It's been hard, but we are safe and very grateful.

The only ingredient that was a little difficult to find was plantains. Not every supermarket stocks them, but some fruit markets do.
The other main substitution was cheese. I would normally use a queso fresco for the filling, but I substituted that for whatever cheese in the fridge that would melt well. I used cheddar, but mozzarella would probably work better.
Step by Step Bolon Recipe
Ingredients
4 plantains
1 med onion
80g (2.8oz) butter
2 teaspoons salt
1 cup cheese
Oil for frying
Time
Prepare: 15 mins
Cook: 30 mins
Vegetarian friendly
This recipe does not include pork or lard (for frying). These are common in many of Ecuador's bolones.
1. Prepare plantains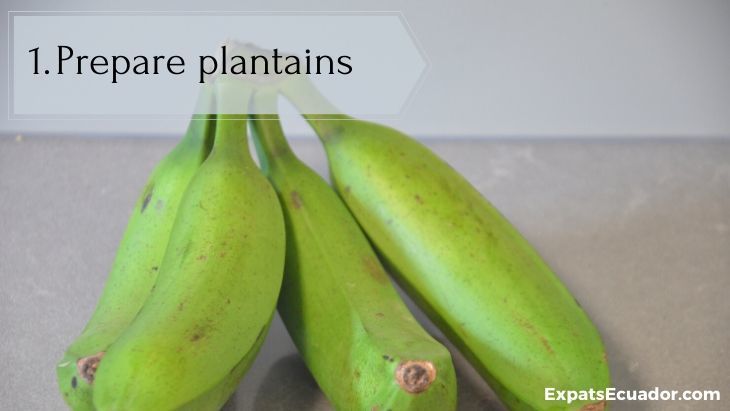 Peel the plantains and cut into 3 to 4 parts depending on the size of the plantain.
Peeling the plantains is the most difficult (and time consuming) part of making bolones. The greener they are, the more difficult it is to pry the skin away from the flesh. Use a knife to wedge out the skin. Cut out the remaining stubborn green bits. I keep my peeled plantains in water to keep them from browning whilst I prepare the others.
Once peeled, cut into 3 or 4 parts. You want the sizes consistent so they are evenly cooked.
Sidenote - we've included plantains in our fruits and vegetables of Ecuador article if you're interested in availability and prices.
2. Cook plantains in salted water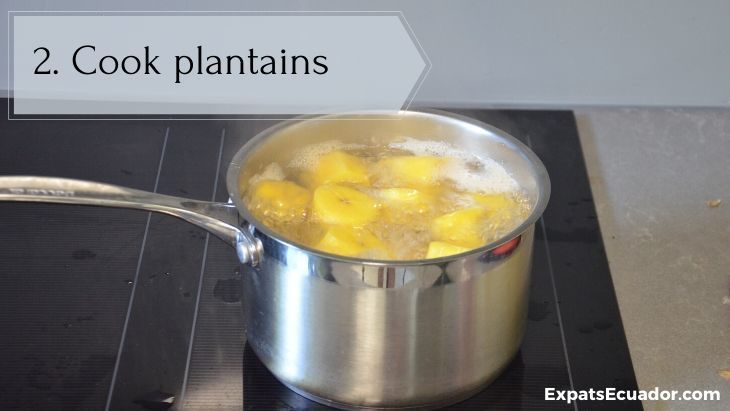 Add salt to water and bring to boil. Add plantains and reduce heat to med-high. Cook until the plantains are soft enough to mash with a fork. Remove plantains from water and transfer to a bowl. Keep the salted water as you may need it later.

3. Mash plantains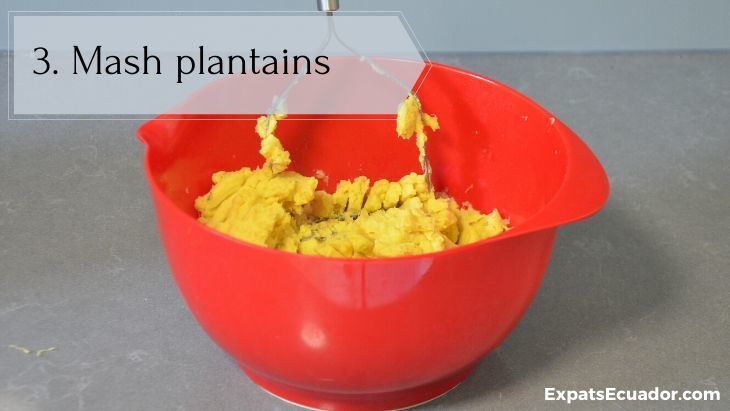 Mash plantains well until there are no lumps. Depending on the type of plantain used and how green it is, you may need to add a little water that you saved. Add in small amounts (ie 50 ml) and continue to mash until the dough is uniform and soft.
Add butter. The starting point is 1 tablespoon per plantain. But as each plantain is slightly different, add this tablespoon by tablespoon until the dough is ready. Taste and add more salt if desired.
How to tell if dough is ready?
​The dough should be pliable but not sticky. When you make your first ball, the surface should be smooth and free of cracks. If it starts to crack, then it's too dry and will break apart when you fry it.
4. Add onion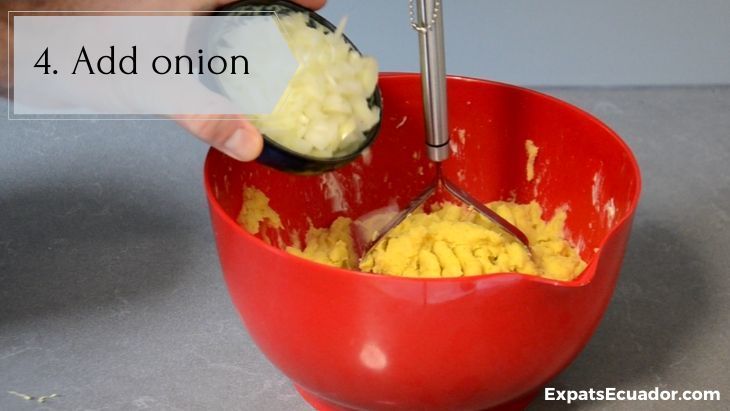 Dice onion very finely and mix to combine with dough.
5. Roll into balls and add cheese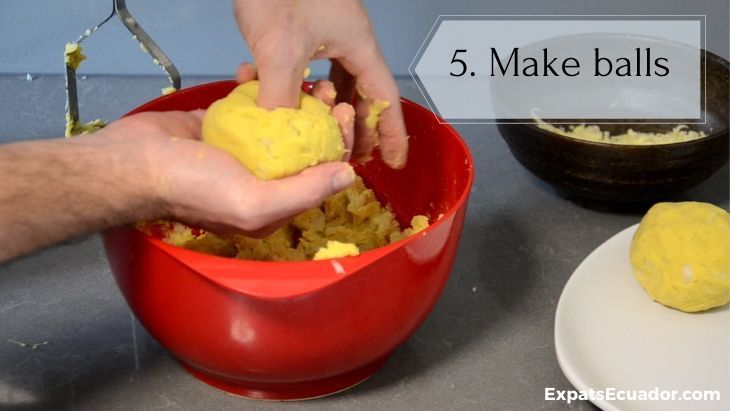 Take a small handful of dough and roll into a ball. Use your thumb to make a large hole almost to the other side of the dough. Add grated cheese to the hole and cover up the hole.
You can also make an oval shape if you prefer. Michelle likes them oval because the cheese melts quicker, but I prefer them round.
6. Fry until crispy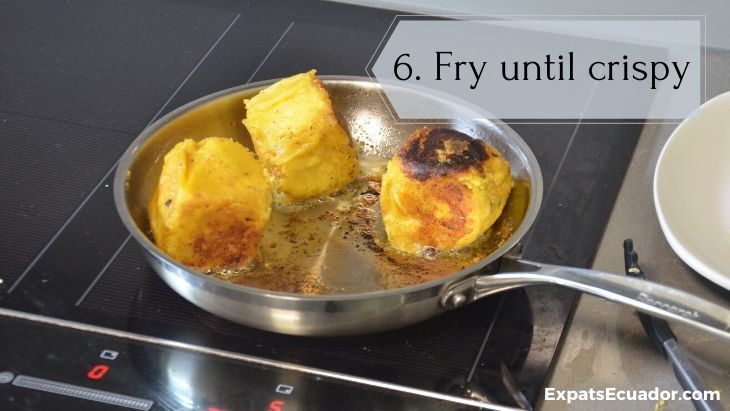 Heat up your oil and cook on medium/high until the outside is crispy and the cheese is melted. I prefer to shallow fry mine, but you can also deep fry.
7. Serve with aji and coffee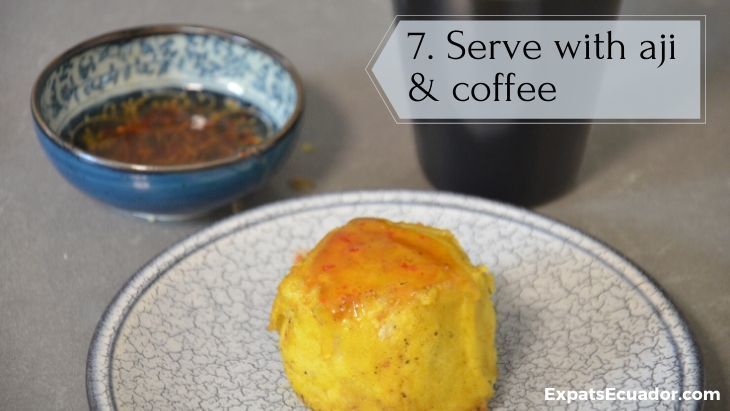 Turn this into a full breakfast by serving with a fried egg, chili sauce (aji) and a coffee.

Buen provecho!
Do you have a favorite bolon recipe? A favorite addition? Let us know in the comments.