When we first visited Cuenca on our holiday/scouting trip, Michelle's mom told us we NEEDED to visit calle Las Herrerías. I had no idea why and honestly it just slipped our minds.
Then, we ended up staying at an AirBnB right by Las Herrerías and I'm so glad we did.
Why? The tortillas of course.
Las Herrerías history
This little street is popular for two reasons. The first gives the street it's name - the blacksmiths and artisans that set up shop on what was the city limits. They strategically placed themselves here because they could be close to the farmers that were not allowed to take their livestock further into the city.
You can still find several iron workshops in action, selling handicrafts such as chandeliers and crosses to adorn newly built houses.
Tortillas in Las Herrerías calle
The popularity of the iron artisans gave way to the second reason to visit the street. The tourists that came to visit the artisans needed to eat and cafes selling local foods like tamales, humitas, bolones and tortillas sprung up along the street.
This is the reason I love Las Herrerías and why I think you should swing by.
The tortillas are fresh, tasty & cheap and the street has a cheerful, local vibe.


What types of tortillas & other tasty treats can we buy?
I'm so glad you asked. There are numerous different types. I've taken prices from Cafeteria Las Herrerías:
| Name | Cost | Description |
| --- | --- | --- |
| Tortilla de yuca | $0.60 | Yuca is a root vegetable. These are white, fluffy & tasty. |
| Tortilla de choclo | $0.60 | These corn based tortillas are dense and tasty. |
| Tortilla de maduro | $0.60 | Maduro is a ripe plantain, so these are sweet. |
| Tortilla de verde | $0.60 | Made from green or unripe plantains. These are not sweet. |
| Humita | $0.60 | Steamed corn cake served in corn leaf. |
| Quimbolito | $0.60 | Sweet steamed corn with raisins |
| Tamal | $0.60 | Savory steamed dough with a meat & veg filling. |
| Bolon de queso | $0.70 | Green plantain mixed with cheese, served as a ball |
| Bolon mixto (queso & chicharon) | $0.75 | Like above, but with pork too. |
| Platano con queso | $1.00 | Grilled sweet banana with cheese & butter in the middle |
| Tigrillo simple | $2.50 | Almost identical to a bolon, but not rolled into a ball & comes with a fried egg. |
Tortilla & other foods from Cafeteria Las Herrerías, Cuenca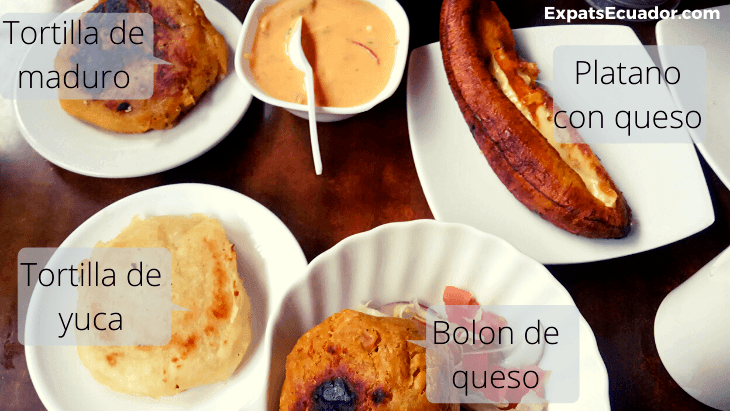 We all have our personal favorites as you can see from the above picture. You can also see the aji, or mild chilli sauce in the middle. This is a common accompaniment for a lot of different foods in Ecuador.
You can of course get a range of different beverages, with the hot chocolate and juices being our favorites. I've included the various other menu items below including main dishes, but have to admit we don't normally have the mains here - as we generally just stick to snacking on this street.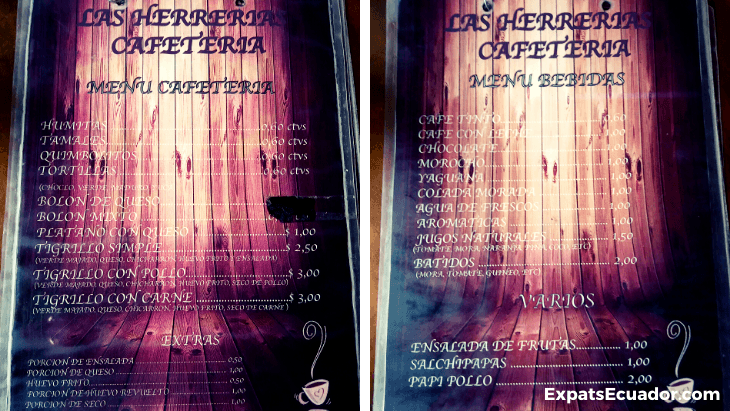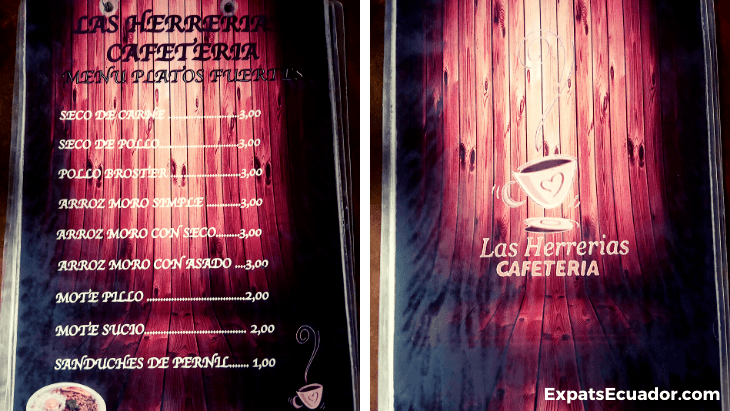 How to get to calle Las Herrerías
Calle Las Herrerías is a 15 min stroll from Centro Historico along the Tomebamba River. The walk along the river itself is a treat and you can easily visit here after taking in the Ruinas de Pumapungo.
Coffee Beans
A bonus to be found on this street is a little shop that sells good quality coffee beans. It's about half way up on the right. They will sell ground coffee for about $4.30 / pound. But, if you ask for whole beans (granos) they'll take delight in whipping out a secret stash of higher quality beans and sell it for $5 / pound.
Do you have any other tortilla hot spots to share? Feel free to do so in the comments below. We are always on the lookout for tasty new cafes.