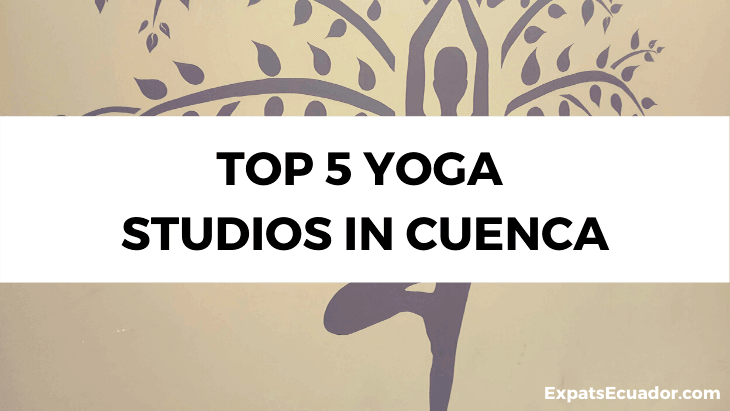 Top 5 Yoga Studios in Cuenca
Can I practice yoga in Cuenca?
Yes! There are numerous options for practicing yoga at different levels Cuenca. 
We've included a map and a comparison of 5 different yoga studios that we've practiced in at at least once whilst living in Cuenca. This map is not meant to be exhaustive as I'm sure there are other yoga studios in Cuenca that we're yet to explore. 
Is it expensive?
Nope. Drop in yoga classes are generally $5 and most studios offer discounts and passes for multiple visits. 
But I've never tried yoga, is it for me?
Not sure. You may hate it. But what have you got to lose? $5 and an hour of your time is all. 
I never thought I was the yoga type either. That was until I tried it and started to realise the physical and mental benefits it brought to my day-to-day life. 
I'm a guy, are you sure yoga is for me?
Yes. Yes and yes. It's true that classes are generally skewed towards a strong female to male ratio, but who cares. Yoga is about being in tune with your body and spirit. I'm a guy and when I started yoga I was also a little apprehensive because of out-dated stereotypes I'd grown up with. Just try it and take it as an opportunity for self exploration. 
Which Cuenca Yoga Studios Do I recommend?
The 5 different yoga studios that we've tried in Cuenca are included in the map. We aren't saying these are the only studios in town, and we hope there are more to explore. But, we think these are a great place to start exploring your Cuenca yoga options.
This is probably your best place to start your yoga search in Cuenca. 
In addition to yoga classes, OM Healing Centre also offers retreats, yoga teacher training and alternative medicines such as homeopathy and psychotherapy. 
Conclusion:
The strong support this centre has from the expat community and quality teachers makes this an easy transition to practicing yoga in Cuenca.
---
RumiSol Yoga & Teacher Training
YumiSol Yoga provides another soft landing for expats into the Cuenca yoga scene. It's a homely studio with an inclusive, younger vibe.
This popular studio is large, simple and has a good amount of light penetration. The teachers I've had mostly instruct in Spanish, but provide English translations for key movements.
They also offer 200 hr yoga teacher training if you're looking to dig deeper into the practice.
Conclusion:
This is a strong contender for the best place for new Cuenca expats or travellers alike to start their yoga search. It has a modern approach which might be comfortable with your previous practice and it's a great jumping off point for new yogis.
Just make sure to arrive 10-15 minutes before class to ensure there's a spot for you.
---
Shakti Yoga
Ok, I'll admit it. I kinda love this yoga centre. It's set in a large compound with beautiful gardens and an aura that I find intoxicating.
The teachers at Shakti are not your casual - I'm teaching yoga for a hobby - type that you can come across. These yogis are devotees that live at the house and it feels like a privilege that they welcome the public into their inner sanctum.
They also give back to the community with free yoga classes:
- Saturday mornings at Parque de la Madre and
- Sunday mornings at Parque del Paraíso.
Conclusion:
This is definitely the centre I would recommend if your focus is on establishing better form and a stricter practice on yoga fundamentals.
---
Adhikara Yoga
Another contender for best yoga centre in Cuenca is Adhikara Yoga.
The studio is the biggest from all centres mentioned in this list, inviting a level of openness that I valued.
Like most of Cuenca's yoga studios, their morning classes focus on Hatha yoga and this was the gentlest of all the classes I've visited. This is most likely due to the predominantly older clients that were practicing that day.
This is a good reminder that you should be checking out all the classes mentioned in the list at least once to start your exploration journey and expand on what works for you from there. We are all different and yoga is ultimately about being in tune with your body.
Conclusion:
I've mixed emotions about Adhikira. The centre itself has so much potential with a bright, big practice area and I enjoy the improvised use of props. However, the varied teaching quality has made it difficult for me to wholeheartedly recommend it above the other yoga studios. I need to go back here a few more times before making any final decisions.
Yoga @ Selina Cuenca
I'm including Selina Cuenca here as a dark horse as the classes aren't as regular as other studios. It's definitely worth a look if you are staying in Centro Histórico as it's the most conveniently located and has a beautiful yoga deck overlooking the river.
The classes are normally run by 3rd party teachers, so the type of yoga practiced and the quality of instructors will vary. I've only been to one class here and it was a basic yoga for beginners class that I enjoyed.
For the digital nomads out there, Selina also has a very well equiped co-working space, making it an ideal place to get our wellness and digital work needs done at the same place.
Image credit: Salina
Conclusion:
Mixing up yoga with some co-working after may be perfect for you. Especially if you're passing through the Centro Histórico and are short on time. The unpredictability of the class schedules has stopped it from becoming a regular studio for me.
Follow Expats Ecuador (por favor)!

Follow Expats Ecuador (por favor)!